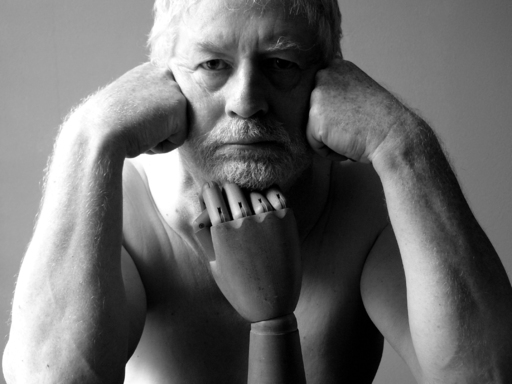 born in Liverpool, England, in 1955
studied at Rotterdam Kunst Akademie (Willem De Kooning Academie) and Sheffield Polytechnic (Sheffield Hallam University).
I'm rather schizophrenic when it comes to making art. Some of my art is definitely about the message, while other work is about a state of mind, an activity, a mental and physical process where the art object is the result of the process, not the aim of it. I do edit my work but that has more to do with expectations and conventions when it comes to exhibiting work. What I am basically concerned with is not just the metaphysical connection between myself and the world I find myself in but also the socio-political connection. The idea of 'good art' or 'great art' doesn't interest me.
I use a wide range of mediums and working methods when making art depending on the subject matter that I am concerned with at the time. I have moved between etching, painting, sculpture, photography and making time based work and writing poetry. The constant in my work is the obession with process and time and the delivery of the message, however, not necessarily the meaning of the message itself, which changes as the work is conceived, acted upon and archieved. I often take my subject matter from popular culture, whether from 16th century avvisi, 17th century newsheets, comics to health and safety at work posters, consumer catalogues and advertisements, childrens fairy tales, all of which is really the flotsam of the commonplace. I find it important that my work fits into the ephemra of every day and not be seen as too precious or distant from the everyday world. It is what it is, a love note, a diary, a rant, a joke, a tall story, an expletive and an unwanted pass. However lately, more and more I am becoming interested in the ridiculous and nonsensical as a way of exploring the irrational and illogical. As creatures we are happy to inhabit and make concrete our delusions, we can reinforce these delusions or try to see through them through art activities but as we overcome one delusion, another takes its place. The idea of 'art' doesn't interest me, it is an irrelevance, a marketing tool, a label for a product. I simply use the word as a convenience, rather than having to write a thesis to replace this short introduction.
I generally work without plans or theories, intellectual frameworks are justifications, I see intellectualising as a post creative activity, which of course, informs my future work so do I really work without plans or theories? My point about delusions. Where I'm going with my art is much about where I've been, there is no destination, just a journey.